---
Antharvedi (Near Rajahmundry)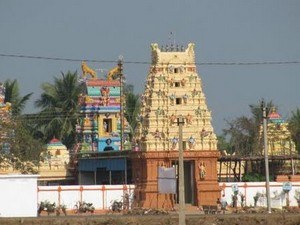 At a distance of 95 km from Rajahmundry, 111 km from Kakinada, 15 Kms from Narasapur, 35 km from Palakollu, 171 km from Vijayawada & 430 Kms from Hyderabad, Antharvedi is the place where Godavari confluences with Bay of Bengal. This place is also famous for Sri Lakshmi Narasimha Swamy Temple situated on the banks of River Godavari.
In this temple, the deity is faced towards West instead of East as in other temples. Vashishta Sevashram is situated on a small island near River Godavari and can be reached by a boat from the bank near temple. There is a small Shiva Temple near the main temple.
Bramhotsavams celebrated here are very famous and attract lakhs of devotees from the whole state. Other festivals celebrated here include Sri Swamy Vari Kalyanam, Rathayatra ,Sri Venkateswara Swamy kalyanam, Sri Narasimha Jayanthi.
There is a small light house near the temple, from where the whole surroundings of the temple, the confluence of River Godavari can be seen clearly. …..
---
Mangalagiri – Lakshmi Narasimha Temple (Near Vijayawada)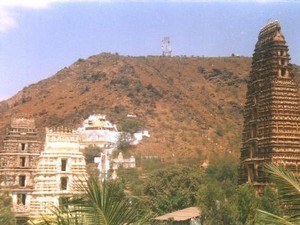 At a distance of 12 Kms from Vijayawada Railway Station & 287 Kms from Hyderabad, Mangalagiri in Guntur district is famous for Panakala Narasimha Swamy Temple on the hill and Laxmi Narasimha Swamy Temple at foot of the hill.
Panakala Narasimha Swamy Temple – The idol is said to be Swambhu. The idol is covered by metal face and only the mouth is visible & it's widely opened. The God takes jaggery water (Panakam) as offering. The water is poured into the mouth, only half of the water is consumed and remaining is thrown out.
Panakala Swamy temple is opened only till 3 PM.
Laxmi Narasimha Swamy Temple ' Yudhishtira, the eldest of the pandavas is said to be the founder of the chief image of this temple and the deity here is called Sri Lakshmi Narasimha Swamy. The temple has a very tall 153 feet tower with beautiful sculpture which has 11 stairs. It was constructed by Raja Vasireddi Venkatadri Naidu, during the years 1807-09.