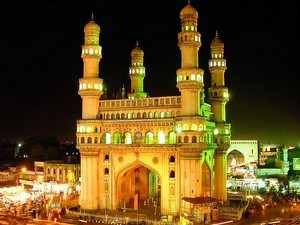 Hyderabad (also known as Bhagya Nagaram) is the fifth largest metropolis of India and the capital of the states of Telangana and Andhra Pradesh. It is known for its rich history and culture with monuments, mosques, temples, a rich and varied heritage in arts, crafts and dance. Also known as The City of Nizams and The City of Pearls, Hyderabad is today one of the fast developing cities in the country and a modern hub of IT, ITES, and Biotechnology. Hyderabad is often referred to the twin cities of Hyderabad and Secunderabad together which are commonly referred as a single city. Hyderabad is one of the top places to experience Telangana tourism.
Muhammad Quli Qutb Shah, a ruler of the Qutb Shahi dynasty (the ruling family of the Golconda – previously a feudatory of Bahmani sultanate that declared independence in 1512) founded the city of Hyderabad on the banks of the Musi River in 1591.
---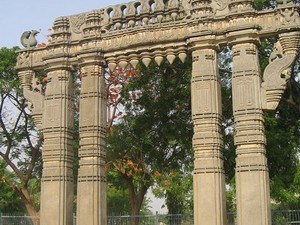 At a distance of 149 km from Hyderabad, 142 km from Nalgonda, 118 km from Khammam, 241 km from Vijayawada and 523 km from Visakhapatnam, Warangal or Orugallu or Ekasila Nagaram is a historical city in Warangal district of Telangana. Warangal is the district headquarters and the second largest city in Telangana after Hyderabad. It is also one of the famous weekend getaways from Hyderabadand an important historical site in Telangana. This is one of the popular places to experience Telangana tourism. Hanamkonda is its twin city.
Warangal was the capital of a Hindu Shaivite kingdom ruled by the Kakatiya dynasty from the 12th to the 14th centuries. Its old name was Orugallu where Oru means one and Kallu means stone. The entire city was reportedly carved using a single rock.
---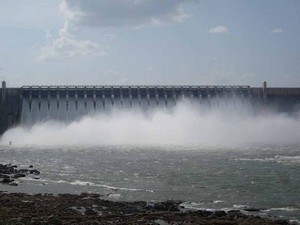 At a distance of 166 km from Hyderabad, 83 km from Nalgonda, 149 km from Guntur, 551 km from Vizag & 190 km from Vijayawada, Nagarjuna Sagar (or Nagarjuna Sagar), located in Nalgonda district of Telangana, is one of the most prominent Buddhist centers in India and also one of the top Tourist places in Telangana. Nagarjuna Sagar is one of the most popular tourist places to visit near Hyderabad and one of the best weekend getaways from Hyderabad city. It is also well known for Nagarjuna Sagar Dam, one of the largest dams in India.
Known in ancient days as Vijayapuri, meaning 'The city of victory', Nagarjuna Sagar takes its present name from Nagarjuna, one of the most revered Buddhist monks lived in 2nd century AD. It is also a place of immense archaeological significance & excavations revealed this.
---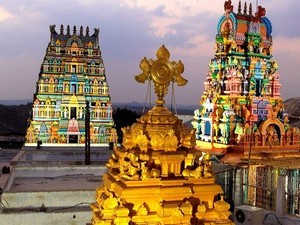 At a distance of 66 km from Hyderabad, 85 km from Nalgonda & 91 km from Warangal, Yadagiri Gutta is a popular pilgrimage town in Nalgonda district in the state of Telangana situated close to Warangal highway. It is famous for Yadagirigutta Temple, abode of Narasimha Swamy, an incarnation of Lord Vishnu. This cave temple is situated at an altitude of 300 feet on a large hillock. Yadagirigutta was earlier known as Vedagiri because it is believed that Lord Vishnu kept all the Vedas at this sacred place. This is one of the top tourist places to visit near Hyderabad and also one of the popular one day trip from Hyderabad. The official name of this place was recently changed to Yadadri by Telangana government.
This temple has five forms of Narasimha.
---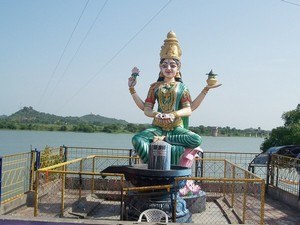 At a distance of 35 km from Nizamabad, 158 km from Adilabad and 212 km from Hyderabad, Basara is a popular pilgrimage site located in Adilabad district of Telangana. This is also one of the top Places to visit in Telangana.
Basar or Basara is situated on the banks of River Godavari. It is a popular tourist and pilgrimage site because of the famous Saraswathi temple. The Basara temple in is a unique temple of Goddess Saraswati, the Hindu Goddess of Knowledge and Learning. Children are brought here to do the learning ceremony called Akshara Abyasam. It is believed to be one of the two oldest temples of Goddess Saraswathi in India, the other being located in Kashmir. Basara is one of the top attractions you must include in Hyderabad packages.
According to mytholpgy, Maharishi Vyas, his disciples and sage Viswamitra decided to settle down.
---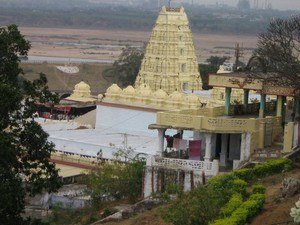 At a distance of 39 km from Kothagudem, 115 km from Khammam, 178 km from Rajahmundry, 182 km from Vijayawada, 352 km from Vizag and 312 km from Hyderabad, Bhadrachalam is a pilgrimage town in Khammam district of Telangana State, situated on the banks of the River Godavari. Bhadrachalam is renowned for the famous Sri Rama Temple built in 17th century and is one of the best tourist places near Hyderabad.
The temple for Lord Rama was built by a devotee called Kancherla Gopanna popularly known as Bhakta Ramadasu in the 17th century. Gopanna was the Tasildar of Bhadrachalam and constructed the temple using public donations. But the Golconda Sultans were misled and felt that Gopanna had misused the government funds to build the temple. He was imprisoned in a dungeon at Golconda Fort. Lord Rama is said to have miraculously appeared before the Sultan and paid the money spent by Gopanna.
---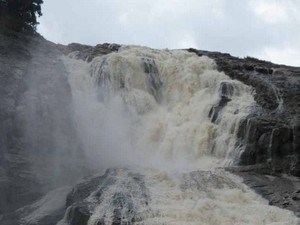 At a distance of 12 km from Neredikonda, 43 km from Nirmal, 58 km from Adilabad & 260 km from Hyderabad, Kuntala Waterfalls is situated in the middle of the Sahyadri mountain range near Neredikonda village in Adilabad District. Kuntala Falls is the highest waterfall in the state of Telangana with a height of 200 feet and also one of the popular weekend getaways from Hyderabad.
Formed by Kadam River, Kuntala falls cascades down through two steps from a rocky platform. It is one of the famous one day outings and a good weekend getaway from Hyderabad city. There is a motorable road till the entry point of waterfalls from where about 400 steps have to be trekked down to reach the bottom of the falls. The falls is about 10-15 minutes walk (one way) from the entry point. This is another popular attraction to visit as part of Hyderabad tour packages.
---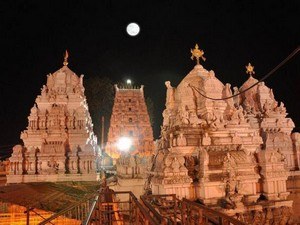 At a distance of 36 km from Karimnagar, 127 km from Nizamabad and 151 km from Hyderabad, Vemulawada is one of the most famous pilgrimage sites in Telangana and also one of the popular one day trip from Hyderabad.
Vemulawada is famous for the temple of Rajarajeshwara Swamy, an incarnation of Lord Shiva. It was built by one of the governors of Kalyani Chalukyas by name Rajadithya between 11th and 12th centuries. The presiding deity is locally popular as Rajanna who is accompanied by the idols of Sri Raja Rajeswari Devi and Siddi Vinayaka. It houses several temples dedicated to other deities including Anantha Padmanabha Swamy, Bhimeshwara Swamy, Kodanda Rama and Kasi Visweswara. Apart from these there is a tomb of Muslim saint.
Located on the banks of Mulavagu stream, Vemulawada was once the capital city of Vemulawada Chalukyas dynasty between 750-973 CE.
---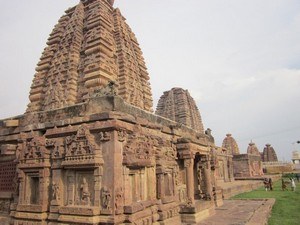 At a distance of 218 kms from Hyderabad, 22 Kms from Kurnool, 126 Kms from Mahbubnagar & 200 kms from Srisailam, Alampur is a historical place located in Mahbubnagar district of Telangana. Alampur is famous for Jogulamba Temple (a Shakti Peetha), Navabrahma temples and Sangameswara Temple built in 7th century. Alampur is considered as the western gateway to the famous pilgrimage town Srisailam. The temple consists of several inscriptions dated between 7th and 16th centuries. Alampur is one of the famous places to visit near Hyderabad.
Situated on the banks of River Tungabhadra close to the place where the mighty rivers of Krishna and Tungabhadra merge, Alampur has rich historical and pilgrimage importance. Several dynasties ruled this place including Satavahanas, Chalukyas, Kakatiyas, Bahamani sultans.
---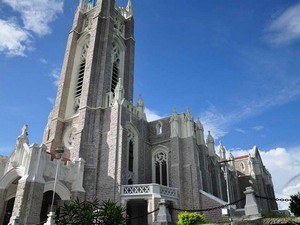 Miscellaneous
At a distance of 100 km from Hyderabad and 66 kms from Sangareddy, Medak is a municipal town in Medak district. Sangareddy is the administrative capital of Medak district. This is one of the best places to visit near Hyderabad.
Medak played important role in the history of Telangana, especially during Kakatiya's rule of Telugu land. It was ruled by several dynasties starting from Western Chalukyas, Chodas, Kakatiyas, Velama and Reddy dynasties before Qutb Shahis and Nizams constrolled the area. The original name of Medak was Siddapuram. Later, the name was changed to Gulshanabad, Methukuseema and finally settled to Medak.
Medak district has several tourist attractions like Medak Fort, Medak Cathedral (largest church in Asia), Wargal Saraswathi Temple, Singur Dam, Edupayala Temple, Nelakondapalli, etc. Most of the places can be covered in 1-2 days and hence Medak acts a perfect weekend getaway.